TerraCore Embracing Nature
At TerraCore, we believe in the importance of team spirit and fostering connections among our employees, both inside and outside the workplace. Recently, we had the opportunity to come together and enjoy a series of unforgettable adventures brought to us by our company members and their families.
The first event that caught our attention was the Tribalion OCR race. Our brave team members, Dušan, Bane, and Ivan, along with their families, joined the race in Tara. This marked our third time participating in this race, proudly wearing our TerraCore shirts as we trained together within the intern TerraFit club, founded within the company for fitness enthusiasts. The Tribalion race consisted of a 12 km course with 25 obstacles, challenging our endurance and team spirit. We are delighted to say that they achieved excellent results, but more importantly, we formed strong bonds among our team members and their families.
Following the successful completion of the Tribalion race, our team decided to embark on a hiking and camping adventure on Kablar the following weekend. Ivan, Darko, Saša, Vladica, Steva, along with his girlfriend Jovana, organized this adventure. Right at the beginning, our brave mountaineers joined the action of carrying loads for the works on Savina Isposnica. People say that the water at this source is medicinal, and for our adventurers, it is meant to refresh them for the continuation of the ascent.
Having conquered the challenging trail and reached the summit of Kablar, our team was rewarded with one of the most breathtaking views of the meandering Zapadna Morava river. Darko even brought coffee with him, allowing others to savor a cup of warm coffee while marveling at nature's beauty. The joy on everyone's faces was evident as we admired the natural wonders and felt a strong sense of connection among ourselves.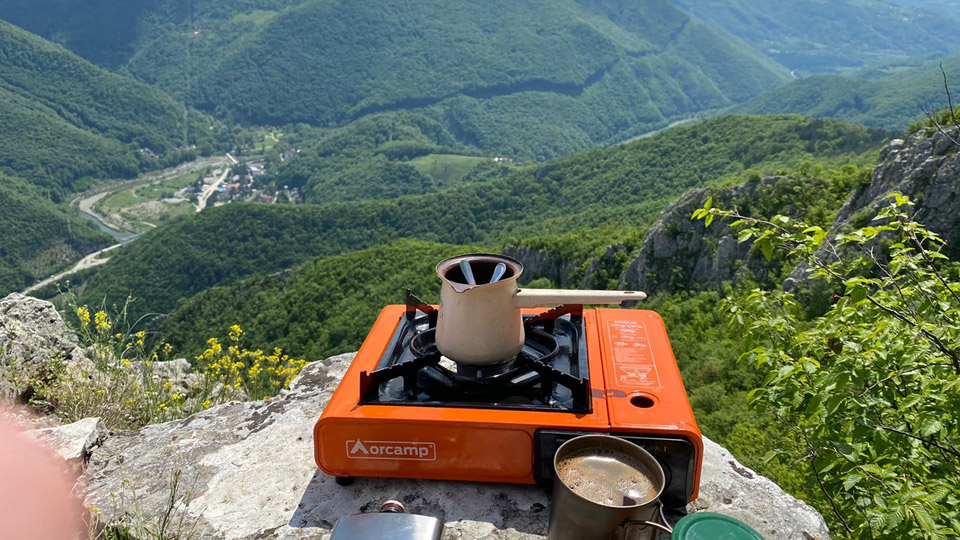 After the descent, our team stopped at a nearby mountain lodge, where they were welcomed by the hospitable host, Mujo. Mujo arranged accommodation at a private estate owned by his friend, located right by the river. Upon arrival, they were greeted with a delicious roasted lamb. Their host kindly offered to take them on a boat ride, providing an additional delight in exploring the area's natural beauty. In the evening, they enjoyed the aromas of a barbecue while camping in tents.
The next morning, while enjoying the sunny day, everyone relaxed, sunbathed and recharged their batteries for the return to Belgrade. It was an opportunity to reflect on all the adventures we shared and to look forward to future events that will deepen our connections and strengthen the team spirit at TerraCore.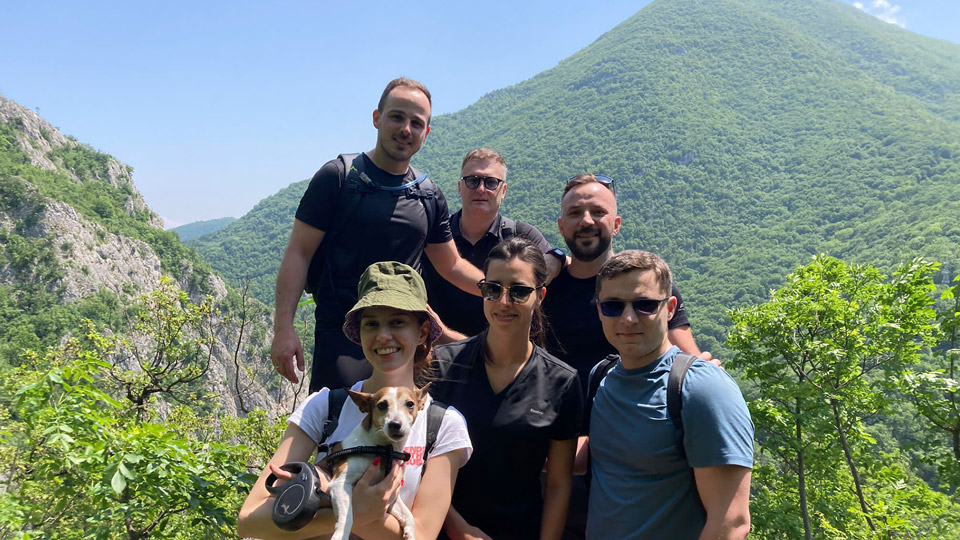 The camaraderie within our IT company, TerraCore, during these two weekends, exemplifies our commitment to creating a collaborative work atmosphere filled with excitement and support. Through participating in the Tribalion OCR race and hiking on Kablar, our team demonstrated that we are united not only in a professional environment but also in activities that bring us joy and adventure.
At TerraCore, we take pride in our ability to connect and support one another outside working hours. These experiences build our community and help us grow and thrive together. We are eagerly looking forward to the next opportunity to explore new adventures and expand the boundaries of our team spirit.
If you would like to join our dynamic team at TerraCore, visit our careers page to learn more about open positions and our commitment to employee development.