Lunch time is when we're all together
Enjoying food is considered one of the most prominent pleasures on earth, although it is rather an existential need than a pleasure. From the first day of TerraCore Technologies, good food is something that unites us all. Much like every other company, we have different teams that may not have to work together every single day, but during lunch break, we all get together to enjoy a good meal.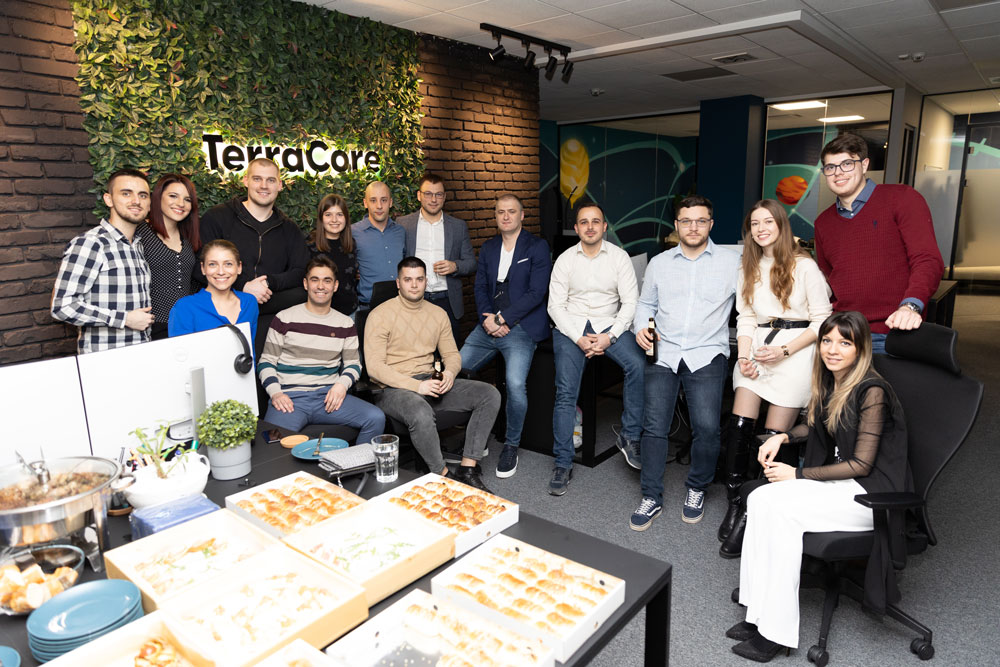 This tradition has become so strong that it is kept even during the weeks when lunch is not covered by the company. Since the very first days of TerraCore Technologies, the company has been paying for lunch for all employees every other week, all 5 working days. Even today, more than a year after the company's beginning, our teams have grown but we have never skipped a week. We have been doing this for so long and so often that even during weeks when we order food or bring it from home, we all sit together in our kitchen around 12:30 pm and have lunch together.
Usually, we have a few different Serbian cuisine options on the menu. We have also created an Excel sheet for ordering food so every employee can choose one of the options in the morning. In the past year, we changed several local cuisine restaurants and had great cooperation with each of them, for which we are very grateful.
Since food is so important to all of us, we had a chat with our team members to hear their feedback, too.
Darko, who is in touch with the restaurants and to whom we are grateful for updating the Excel sheet every day and reminding us to fill it in, says that the most important thing for him is ensuring the order is correct and that nothing is left out, given how large and complex our orders can get. His favorite lunch is beans with sausages, which is understandable - he needs a lot of strength and energy to keep up with all his administration. Our QA tester Miloš agrees. He sits close to the door, so usually he's the one helping out Dare to get our lunch delivery. He appreciates a pleasant and efficient delivery.
Our project manager Ivan loves ribs in BBQ sauce when we order out, but he is lucky to always have homemade meals available as his wife cooks. When asked if he enjoys his wife's cuisine more than the food we order, he picks his wife. He sticks to his answer even after we remind him that the other meals are free.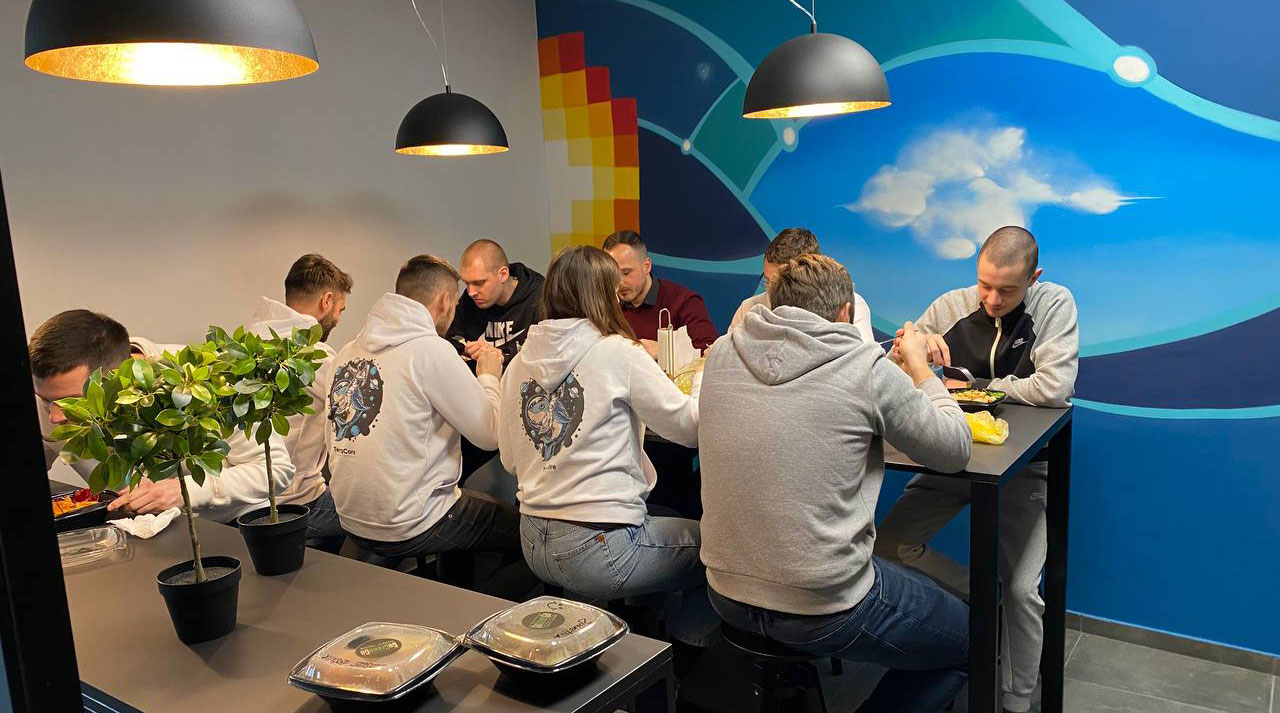 Ogi and Vladica, both fitness enthusiasts, appreciate having the opportunity to choose what they're going to eat. Vladica likes the fact that he can always choose a healthier meal, and Ogi always picks the biggest portion no matter what's inside. Our Angular Developer Miloš is the biggest man in the company and can definitely eat the most. When asked about his favorite meal, he says - I don't care what it is or where it comes from, as long as there's a lot of it. Understandable.
Ana usually goes for fish, but only on Fridays, not because she is fasting but because that's when it's available. One of the many reasons we love Ana is because she can never finish her food, so whoever is super hungry that day can put dibs on the rest. But that person is certainly not David - his biggest challenge is also to finish the whole portion, even though he equally loves home-cooked food and pastries from the bakery he usually goes for when we don't order.
Steva, a Belgrade native, had the experience to try some of the best places in our capital, so that's why he is perhaps the only person who enjoys the weeks when the company doesn't pay for lunch. In addition to enjoying good food, he also loves to give suggestions. However, as we've all been trying to eat healthier lately, Steva has been increasingly turning to cooked meals rather than fast food.
One of the most positive things about our company is that we all started supporting each other to eat healthier and pay more attention to our diet. It is very important to us that our team members are healthy. That is why we have been drawing attention to the importance of a healthy diet and physical activity for a long time. One of the initiatives we have launched within the company is a club for people who work out called TerraFit, created to highlight the benefits of working out and living well. This topic is extremely important in the IT industry, as most of the employees spend almost all of their time behind a computer. We are proud that more than half of our company works out and together, but we'll get into that some other time.
We often bring homemade products, pies or other specialties to the office for the entire team for different celebrations, birthdays and other not so special occasions. Our new office has a big kitchen that allows us to prepare food and store it in the fridge which makes it a lot easier to eat well.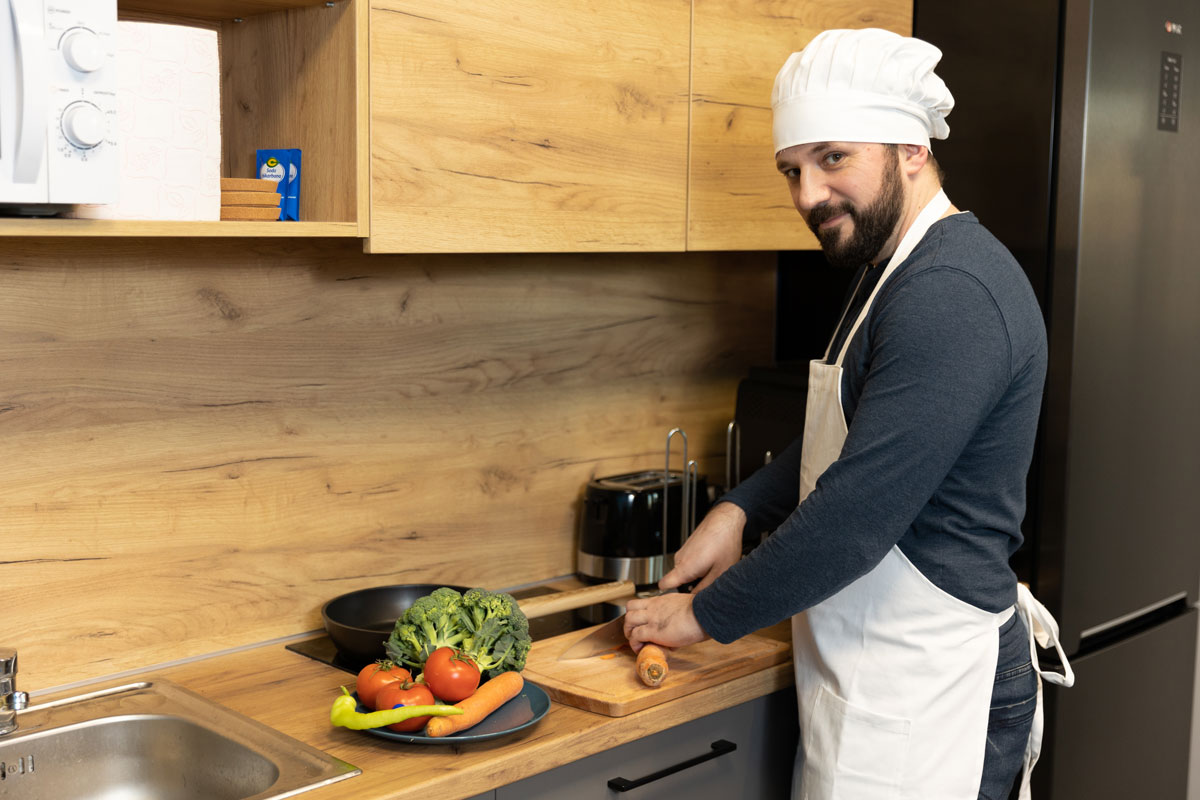 Today, we have many traditions and activities that are part of our company culture, but food will certainly always have a special place for all of us. We will continue to encourage healthy eating among our teams and do whatever we can to support them in living well and feeling their best.